Site MaP
(Non-Active -
Information only)
Underlined words indicate a page

Home
What is STAR Tech?
STAR Tech
Treatments
Testimonials
Practitioners
Barry Bailey
Fees
Services
Robin Smallen
Learning Center
About the Learning Center
Location
The Space
Events and Offerings
Teachers and Lecturers
Directions
Parking
Master Calendar
Stretching
Stretching & Movement
Why Stretch?
Active Isolated Stretching
Pump Stretching
Stretching and STAR Tech
Stretching Classes
Private Stretching Sessions
The body wants to be well
Stretching and Yoga
Benefits of Stretching
Stretching Classes
Classes
Master Class Schedule
Stretching Classes
Class Descriptions
Fees
Private Instruction
Fees
Yoga Classes
Class Descriptions
Workshops
About Workshops
Master Workshop Calendar
Public Workshops
Corporate Workshops
Calendar of Public Workshops
Workshop Descriptions
Training Workshops
Calendar - Training Workshps
Workshop Descriptions
Biographies
Barry Bailey
Jack Casey
Steve Thoman
Ren Naylor
Elizabeth Foley
Newsletters
Pain Relief Tips
Tips
Quotes of Note
Free Events
Workshops, Talks
Other Events
Photo Gallery
Public Registration
Form to download
Training Registration
Form to download
Useful Links
Complimentary Healing
Exercise
Training, various
Men's Organizations
Stretching
Yoga
Bailey Therapeutic Massage
Hours of Operation
Treatment Fees
Slumber Time Extension
Philosophy
About Bailey Therapeutic
Massage
About the Therapists
Menu of Services
Gallery
Products
Products Order Form





Since 1992

14 Nason Street, Suite 201
Maynard, MA 01754
978 897-0110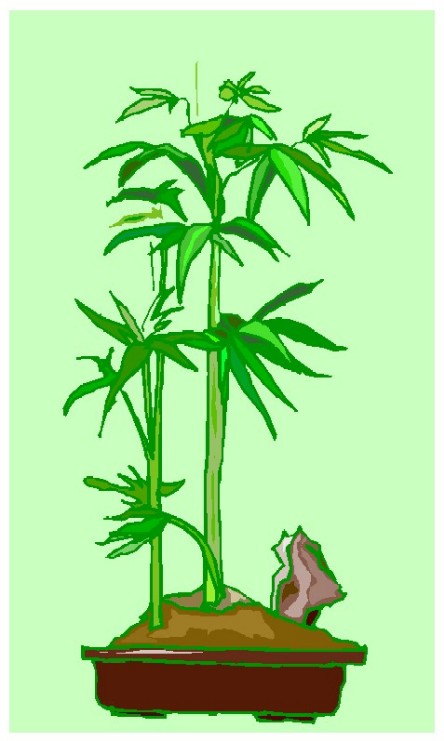 Hours of Operation
Treatment Fees
Philosophy
About Bailey Therapeutic Massage
The Therapist
Menu of Services
Massage Bill of Rights

Barry L. Bailey, MS, LMT, Active Stretching Instructor/Coach

Massage Therapy appointments are available again at Bailey Therapeutic Massage after being closed due to the pandemic.

Strict conditions have been established to assure the safety of both the client and the therapist.

Please read the client requirements and guidelines posted below before you schedule an appointment.
Massage Treatments are by appointment only.

Walk-ins are no longer offered.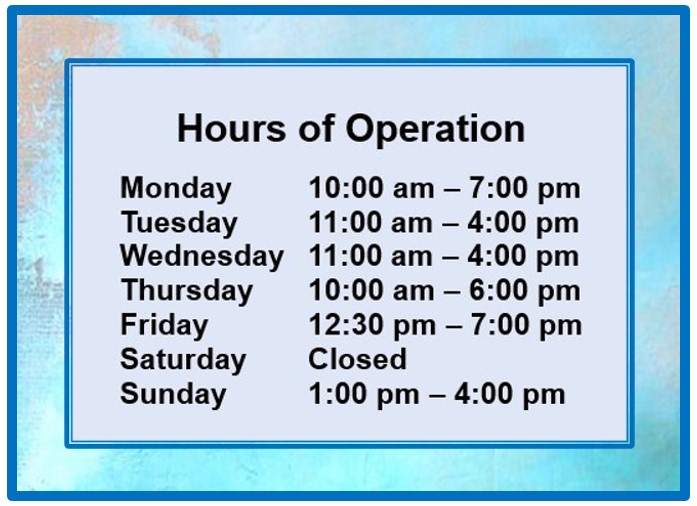 Treatments are a full 30 minutes for a half hour appointment,
a full 60 minutes for an hour appointment,
and a full 90 minutes for an hour and a half appointment.


Payment

Payment is accepted in cash or by check.
To serve you more efficiently and safely
Credit and Debit Cards are not accepted.

Changes Due to an Uncertain Future
Gift Certificates and Bulk Appointment Discounts will no longer be offered at
Bailey Therapeutic Massage.
Gift Certificates you already possess will be honored.
Any unused Frequent Flyer sessions you have remaining will be honored.<![if !supportLineBreakNewLine]><![endif]>
<![if !supportLineBreakNewLine]>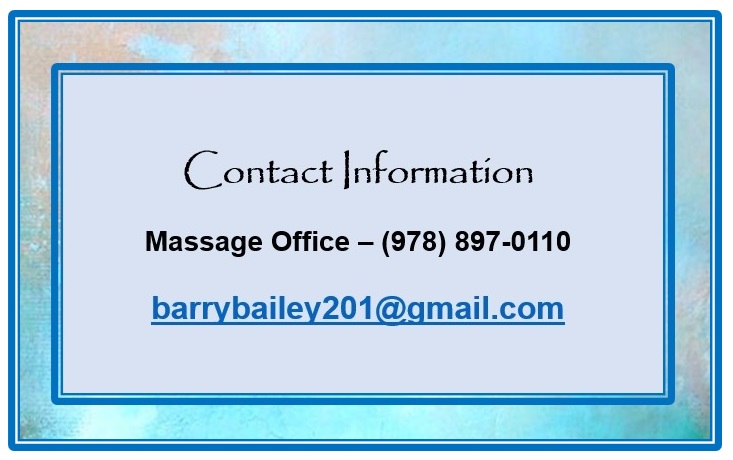 <![endif]>
<![if !supportLineBreakNewLine]><![endif]>
New Safety Measures

| | |
| --- | --- |
| | · To receive a treatment at Bailey Therapeutic Massage you must be fully COVID-19 vaccinated (2 shots) with at least one booster shot. |
| | · You will be required to produce proof of your vaccination status to receive a massage. |
| | · To receive your massage treatment, you must be free of fever or symptoms, or the suggestion of any illness when you arrive for your treatment. |
| | · A COVID self-test is recommended before arriving for your scheduled appointment. |
| | · You will be required to wear a mask at all times, before, during and after your massage treatment. |
| | · Your mask must always properly cover both your nose and your mouth. |
| | |
| --- | --- |
| | Do not come for a massage if you have a known COVID-19 infection or you are in the isolation period. |
| | |
| --- | --- |
| | Do not come for a massage if you have had a known exposure to COVID-19 within the last 10 days. |
Cancellation Policy
Bailey Therapeutic Massage will continue the cancellation policy it has always had in the past.

Please give at least a 24-hour notice before your scheduled appointment time if you know you must cancel your appointment.

In contrast, cancel your appointment at the last minute rather than arrive sick.

Do not appear for an appointment if you are not feeling well or suspect you may be sick.




The Bailey Therapeutic Massage treatment and waiting room are now equipped with a Surgically Clean Air hospital grade Jade2.0 SCA5000C air purification system to protect you and your therapist from COVID and other air born viruses.

This multi-stage filtration system effectively pre-filters the air which then flows through a HEPA-Rx filter and an activated carbon filter. The air is purified with exposure to a high intensity ultraviolet lamp, and a titanium dioxide catalyst. Finally, the air is revitalized with negative ions which are known to supply more oxygen to the brain and increase alertness and energy.


Before, during and after your massage treatment the Jade air purifying machine will be in service.
Appointment Spacing
Massage and assisted stretching sessions will be scheduled with at least two hours left open between clients to ensure the rooms and air have been fully sanitized and safe for your treatment.


Please Note: A limited number of appointments will be available each week.
Your Therapist
Your therapist, Barry Bailey MS, LMT, Active Stretching Instructor/Coach has been fully vaccinated against COVID–19 and has received three COVID booster shots.

Your therapist will always wear a mask while in your presence.

Extensive safety measures against COVID are necessary for the safety of your therapist [Doctor's orders].
Please respect and follow the guidelines listed above for massage clients.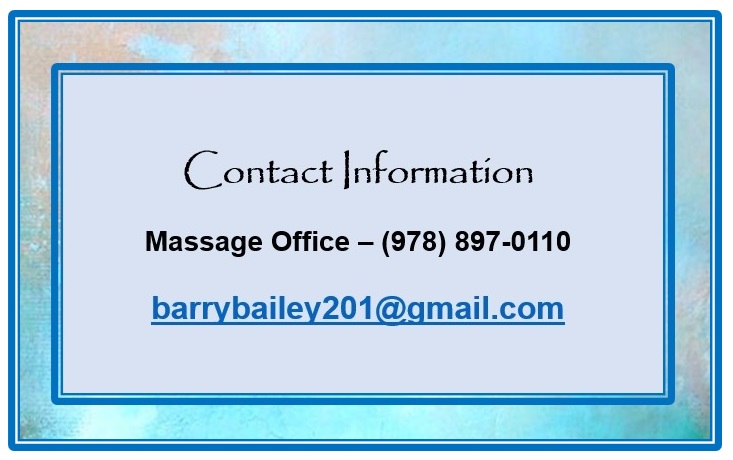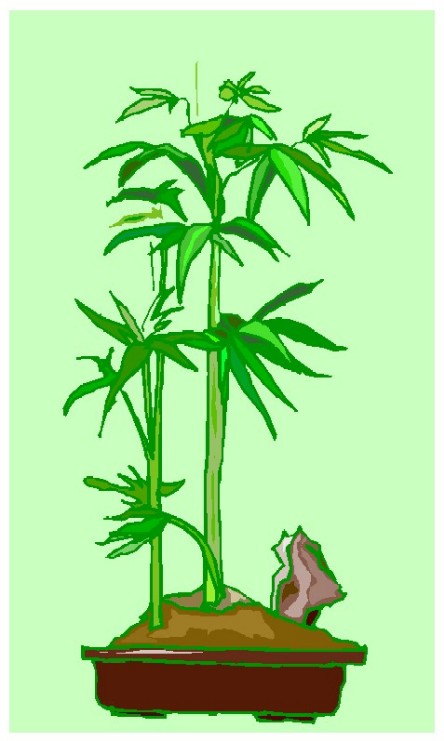 Self-Massage and Pain Relief Consultations
are also available with Barry Bailey, MS, LMT, Active Stretching Instructor/Coach
via ZOOM.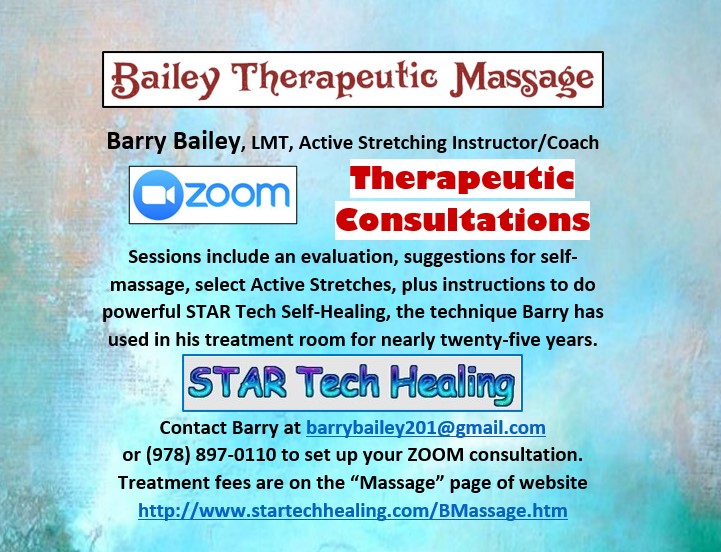 If you are seeking help and guidance for easing tight or sore muscles,
headaches, or for other pain relief,
and you are willing to take personal responsibility for your self-healing,
a ZOOM Consultation may be helpful for you.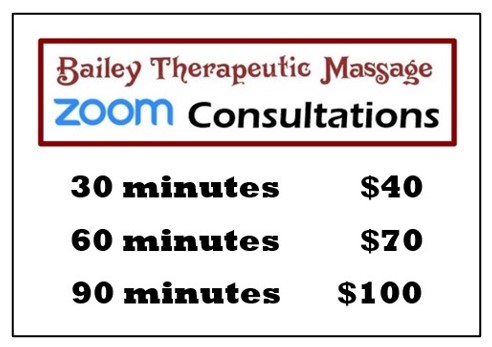 Beginning with the premise that the body wants to be well and will do all it can to be well, we work with clients to help them reach and maintain that wellness they seek, be it stress relief, pain relief or some other change.

At Bailey Therapeutic Massage I treat the whole person, not just muscles and other soft tissue. I encourage my clients to take personal responsibility for their health, and I assist each client by offering suggestions for taking an active role in achieving and maintaining their own wellness.

I work closely with other Health Professionals in the area in an effort to help clients obtain maximum results. It is often through this sharing of expert knowledge and approach that clients achieve the wellness they seek and deserve.


About Bailey Therapeutic Massage
Barry Bailey opened the original Bailey Therapeutic Massage practice in 1992 at 9 Nason Street in Downtown Maynard. Seven years later the practice moved across the street to the current larger and more accommodating quarters at 14 Nason Street.

In 2004 Barry opened the STAR Tech Healing and Learning Center as a division of Bailey Therapeutic Massage. He continues to "Teach the world how to heal itself . . . one BODY at a time" by sharing with his clients information that deals with body, mind and spiritual healing and wellness.

Over the years Bailey Therapeutic Massage has become well known as a location for people young and old who are in pain, to seek pain relief and education as to how to ease their current pain and to prevent future pain.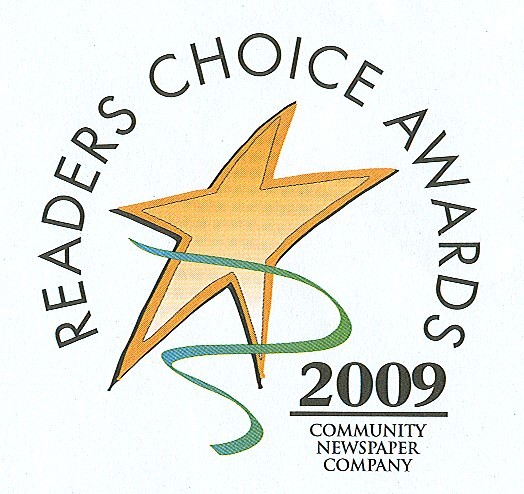 Since 2003 Bailey Therapeutic Massage has been the proud winner of numerous Community Newspaper Chain's Readers Choice Awards - Best Massage in Maynard.

We were honored with the Best In Maynard award in 2003, 2004, 2005, 2006, 2007, 2008, 2009 and 2010. With nearly a dozen Massage Therapists practicing in the tiny town of Maynard over those years, and many dozens more practicing in the immediate surrounding communities, this honor is all the more special.

About the Therapist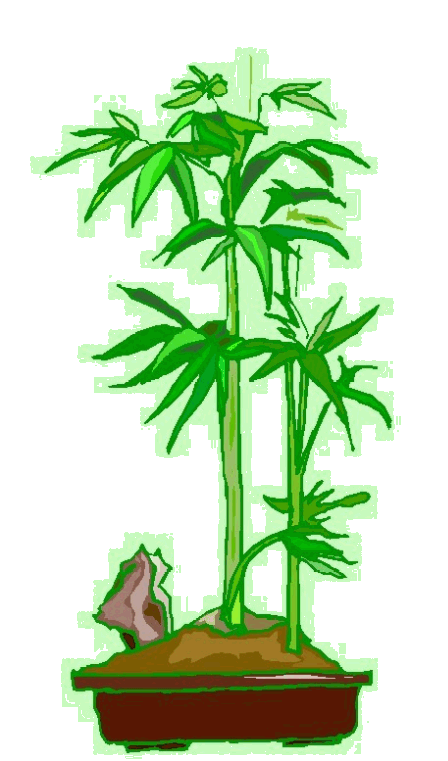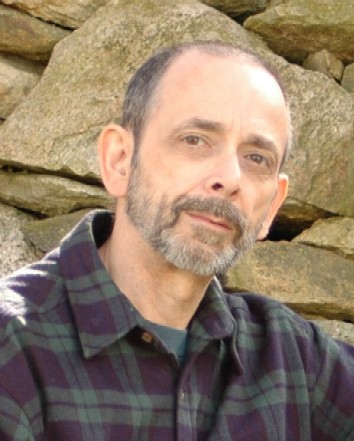 Barry L. Bailey, MS, LMT, Active Stretching Instructor/Coach

Barry is a Massage Therapist, teacher, published writer, Cable TV personality and an accomplished Active Stretching Instructor and Coach. He earned his undergraduate college degree in Education.
He is a graduate of The Massage Institute of New England (MINE) in Cambridge, MA. and is certified as a Massage Therapist. He continues to study massage and new techniques to help his clients.
Barry works part-time as a Massage Therapist, and is also the Managing Director of the STAR Tech Healing and Learning Center. Barry teaches classes and workshops at the Learning Center. He has also taught classes for the Action-Boxborough Community Education Program and SWYMFIT/Harvard Ridge Fitness Center.
Barry has been a leader in the local massage community, organizing and leading volunteer massage teams for a variety of charity and non-profit events. He has consistently made the massage practice an integral part of the fabric of Maynard and surrounding communities through volunteer work and participation in numerous Downtown Maynard as well as in events in other towns.
Barry is the developer of a promising healing treatment he calls Soft Tissue Active Recovery Technique, or STAR Tech®. STAR Tech® is a therapist's technique of healing that is much faster than what can be accomplished using standard massage procedures. STAR Tech® can also be used as a self-help technique by individuals who have had no formal massage or anatomy training. Barry teaches STAR Tech® workshops and classes to both Massage Therapists and to the general public.
STAR Tech® is truly "Healing of the Future . . . Now!"
Click here to learn more about STAR Tech®
Barry has a background in college level teaching and uses that experience extensively in his work as Massage Therapists and volunteer.
For a full Biography of Barry Bailey click here.

Photo courtesy Turner Photography, Stoneham, MA


Menu of Services

Massage Style
Massage Treatments are based on Swedish Massage
and are custom designed to meet the particular needs and preferences of each client.
Designer Massage work can be light for relaxation and stress relief, or it can be deep, working specific muscles that are tired, overworked, in spasm or injured.
Often a session will contain a combination of a number of different techniques.
<![if !supportLineBreakNewLine]>
<![endif]>
Treatments Offered
Swedish Massage
Relaxation Massage
Sports Massage
Trigger Point Work
Deep Tissue Work
Rehabilitation Work
Muscle Re-Education
Massage for Dancers
Chakra and Energy Balancing
Stress Management
Pain Relief
STAR Tech® Healing
Stretching Assistance & Instruction
Chi Nei Tsang (Deep Organ Massage)
Massage for Musicians
Ritual/Esalen Massage
Quantum Touch
Click here for full descriptions of Barry's Services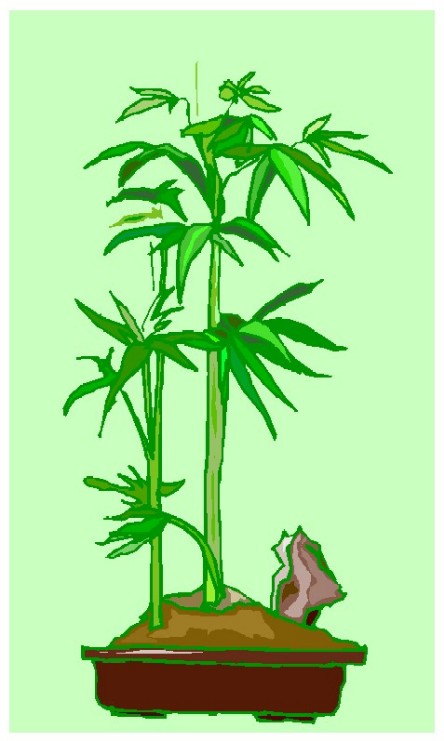 Massage Bill of Rights
You have the right:
Ø To be left alone as you disrobe and settle into the relaxation mode.
Ø To be as warm or as cool as you like during your massage.
Ø To choose the style of music you enjoy.
Ø To have no music playing, if you prefer.
Ø To be comfortable in the placement and arrangement of your body on the table, and to request pillows or other support if needed.
Ø To remain silent throughout the massage, and to expect the same from your Therapist.
Ø To talk during the massage if that helps you to unwind better.
Ø To direct the massage, requesting specific areas of concentration, repeated strokes and timing allotments to certain body parts, if you so desire.
Ø To refuse all phone calls or other interruptions.
Ø To uninterrupted pleasure throughout your massage.
Ø To stop the treatment and leave if the massage is unpleasant.
Ø To be left alone afterwards.
Adapted and expanded from Unwinding – Super Massage for Stress Control by Gordon Inkles

Bailey Therapeutic Massage has been serving the Boston Metro West communities
of Maynard, Acton, Concord, Sudbury, Stow, Hudson, Marlborough,
Boxborough, Bolton, Harvard, Groton, Newton, Arlington, Lincoln,
Framingham, Clinton, Lancaster and Littleton, Massachusetts since 1992

STAR Tech Healing is a Division of Bailey Therapeutic Massage
This page last updated August 24, 2023

"Let the
person
saying
it can not
be done
not interrupt
the person
doing it."
Chinese
Proverb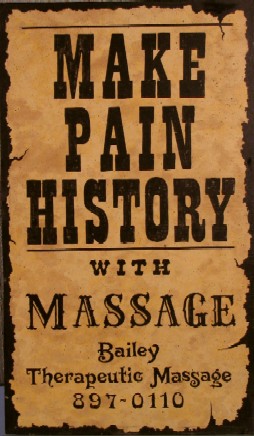 "When someone shares something of value with you and you benefit from it,
you have
a moral obligation to share it with others." Chinese Proverb
STAR Tech is all
about
improving
one's quality
of life!